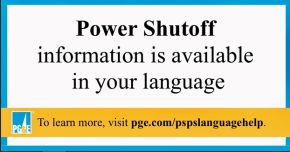 KSQQ
1629 Alum Rock Avenue, Suite 40
San José, California 95116
408.258.9699 office
408.258.9696 requests
408.258.9770 fax
E-mail us
FCC Public File and Applications

Free Annual Gas Safety Checks
With colder weather months approaching, PG&E is reminding customers to call to schedule a free in-home safety inspection of their gas appliances. During the visit, PG&E will also relight pilot lights for customers who have heaters or other appliances that have been turned off during warmer months.
Read more
…
Stop Vampire Appliances from Taking a Bite Out of Your Budget
Vampire appliances have a voracious appetite for sucking energy out of electrical outlets and money out of your wallet, even when they are turned off. These appliances and devices still use energy while powered down and they are potentially all over your home.
Read more
…
New and Expanded Resources
To make sure customers stay safe during planned wildfire safety outages, Pacific Gas and Electric Company (PG&E) offers new and expanded customer resources in case Public Safety Power Shutoffs (PSPS) are needed this autumn.
Read more
…
More than 5 million Pacific Gas and Electric Company (PG&E) electric customers will automatically receive the California Climate Credit on their energy bill this month. The credit was created by the California Public Utilities Commission (CPUC) as part of the state's efforts to fight climate change.
Read more
…
In this latest scam campaign, scammers are contacting customers via both email and phone, falsely telling them that their utility meter needs to be replaced and that immediate payment of a deposit is required to avoid disconnection.
Read more
…
Subscribe to Receive PSPS Alerts
PG&E customers and non-account holders can now sign up for notifications for any address they care about to stay informed about Public Safety Power Shutoffs (PSPS). High winds can cause tree branches and debris to contact energized lines, damage our equipment and cause wildfires. As a result, PG&E may need to turn off power during severe weather to prevent wildfires. This is called a PSPS.
Read more
…
Utility Scams on the Rise In 2022
As the number of scams targeting utility customers continues at an alarming rate—typically by phone, online or in-person—Pacific Gas and Electric Company (PG&E) wants to help customers recognize the signs of a scam so that they can avoid falling victim.
Read more
…
PG&E Family Electric Rate Assistance
Thousands of income-eligible customers could save 18% on their monthly electric bill by enrolling in PG&E's Family Electric Rate Assistance (FERA) Program. The FERA program gives discounts on electricity bills to income-qualified households of three or more individuals. PG&E estimates a total of 134,312 households throughout Northern and Central California could save on their monthly bills by enrolling in FERA.
Read more
…
PG&E Battery and Generator Rebates
During wildfire season, emergency preparedness becomes even more critical. Good preparation means practicing emergency plans, having go bags packed and ready, keeping extra batteries for flashlights and radios within reach and more. For those customers with access and functional needs, PG&E offers discounts on generators and batteries.
Read more
…
PG&E Expands Enhanced Powerline Safety Settings
To help prevent wildfires and protect its customers, PG&E is continuing to enhance its safety efforts. They are adjusting the sensitivity on some equipment to automatically – and quickly – turn off power if the system detects a problem. They call this Enhanced Powerline Safety Settings (EPSS). If an object strikes a line, safety equipment detects the change in current and shuts off power within one-tenth of a second. They then check the lines for damage before safely restoring power.
Read more
…